cloud_upload
Upload your raw DNA data
Use our free genetic calculators to receive results instantly. You will have a continously updated set of results and will be able to unlock more over time.
accessibility
Genetic health
Understand how your genes influence your genetic traits, propensities to disease, inherited conditions and drug response.
nature_people
Genetic ancestry
Discover your genetic genealogy and where your ancestors originated from using admixture and oracle calculators.
lock
Privacy
We will never share your DNA data or results without your explicit permission and we are GDPR compliant.
fingerprint
DNA test
We support data uploads from 23andme, AncestryDNA, FTDNA, MyHeritageDNA, LivingDNA, Genes for Good and Geno 2.0.
Genetic Ancestry
Ancestry Admixture
15 calculators
Discover recent and ancient populations that relate to you
Ancestry Oracles
9 oracle models
Use the oracles to interpret your ancestry admixture results
Neanderthal
4 Neanderthal traits
Neanderthal score based on 3,805 markers
Analysis of 1,328 Neanderthal markers associated with various health risks and diseases
EDAR & East Asian
A simple tool to discover if you carry the EDAR variant and 73 markers indicative of East Asian ancestry
African
A simple tool to discover if you possess any of these 24 variants that relate to African ancestry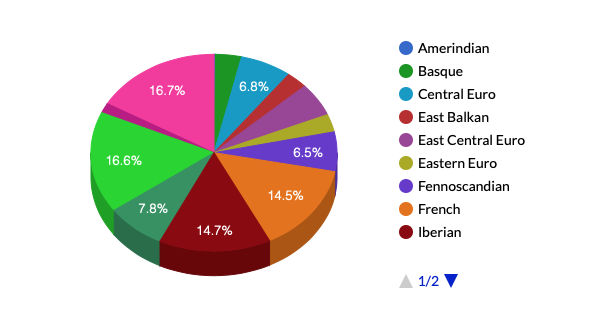 Genetic Health
Traits
50 SNPs
Explore your inherited traits from hair colour to height
Discover if you are lactose tolerant and your response to alcohol
Health Risks
11 SNPs
Learn what risks of developing various health conditions are, from celiac disease to how you process various vitamins
Inherited Conditions
4 SNPs
Find out your risks of carrying some hereditary diseases
Drug response
4 SNPs
Discover how drugs interact with your unique genetic profile
Reproductive health
Male and Female fertility
55 SNPs
Mental health
Mental health and drug response
123 SNPs
Nutrition and exercise
Genetic response to diet and exercixe, propensity to weight gain
190 SNPs